" Building Log Cabins correctly
is a critical part of the whole process! "

Are you considering building log cabins? While a large part of the structure will arrive pre-manufactured, how the materials are installed is a crucial part of the longevity of your log cabin. As previously mentioned, log buildings will settle and so they must be put together in a way which allows this (albeit in a controlled way). Nails and screws must be intelligently used, with the correct sizes, fixed in the correct location. Failure to follow these fundamental steps may cause gaps in between the logs!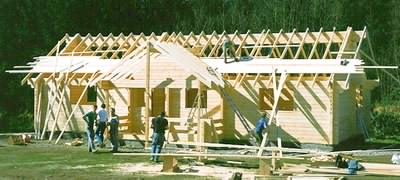 So, what parts of building log cabins do you need to know about?





Building log cabins - easy or not?



DIY log cabin build

On the face of it, building log cabins looks pretty straightforward, however there are certain procedures which must be followed. It is certainly quite possible for someone to put up a log cabin themselves, especially if it is a small garden log cabin. A larger & more complex log cabin, such as a house, should be approached with caution. Find out whether this is something you should seriously consider.
Using a construction team

In many cases using a specialist construction team will be the sensible option. There is no substitute for experience; I can promise you that someone who does this all day, every day, will be much faster than a novice. If the investment in your log cabin is considerable, then don't be tempted to save a few pennies on the construction if you are not absolutely certain what do to during every step of the build. Also make sure that, if you get a team in do your build, they have the right skills and experience.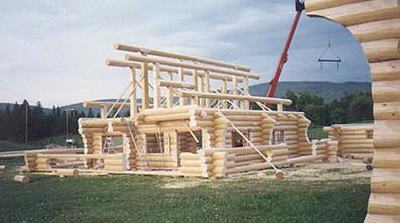 Delivery of materials

Many people do not consider the delivery aspect until it literally arrives on their door step (with a large panic ensuing!). I have all too often been stuck down some narrow country lanes with large articulated lorries and, believe me, unloading can be very stressful! A bit of forward planning can really help this part go a lot more smoothly, especially if you are doing a big log cabin. Remember many log cabins arrive with virtually all the materials in one consignment, so you suddenly have a lot of materials on your hands! Space is key and find out what to expect and how to minimize on site chaos.
Electrics

The routing of electric cables in log cabins is unique to this type of construction and something you must plan for early on. You will need to know where all your electric points have to be so that, if required, the log can be pre-drilled to accept cabling. And remember, with solid log internal walls, there is nowhere to hide the cables. Find out more about electric cables in log cabins.
Log Cabin trim

Fixing the trim to log cabins is something that needs to be done with care. For a start, it is a very visual part of the finished log cabin appearance and therefore must look good. It is also essential that they are installed correctly. This is to ensure that the external log walls are well sealed and it also allows log settlement to occur un-impeded. The log manufacturers provide all the trim pre-cut, which can save a lot of construction time. Others may supply only lengths of material which have to be cut to size.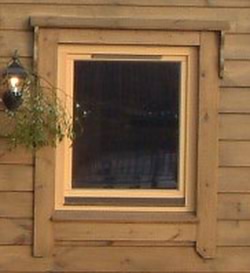 Internal wall movement

Internal wall movement is sometimes forgotten about and can cause a few problems later on. If you are fixing items to the logs themselves, then some provision must be made from large items especially. Particular areas where this can often be found are in kitchens and bathrooms. If you have an external insulation wall, this can help a lot (as this doesn't move). There are ways to deal with internal wall movement though and if they're done properly they should not be an issue.
Dis-assembly

Are you thinking that one day you may move your log cabin? Some log cabins can be dis-assembled and re-assembled again, but do not assume this is always a viable option. With a larger log cabin, made from thick logs, this can prove very difficult, if not impossible. Never attempt to do this without professional advice. Many substantial log cabins fit together very tightly and you could end up damaging the wood significantly by trying to get it apart!



Click here to go from building log cabins to the homepage