What maintenance must be undertaken to ensure your log cabin lasts?



These are just some of the many questions which will be answered in real detail, when you get our log cabin ebook. To help you fully understand the key issue the ebook will contain many pictures and detailed colour drawings to illustrate important points. Find out all the answers the inexpensive way, rather than paying a hefty price for getting it wrong later on!




Log Cabin ebook – 7 Essential Steps to Your Log Cabin Success!





Let an experienced log cabin industry insider reveal the 7 essential steps:

1) How to choose and buy the right log cabin package for your needs
2) How to identify suitable and good quality timber
3) How to choose the right type of logs for your specific project needs
4) Understanding log cabin design principles and why they are unique
5) Understanding why correct log cabin construction is critical to long term success
6) Knowing when insulation is needed and how best to insulate your cabin
7) How to maintain your log cabin and protect your investment


1) Log Cabin ebook - Choosing and buying the right log cabin

Now this might sound like a relatively straight forward task, but is it really? Should you buy new or second hand? Do you know what is needed to complete your project, or could you end up buying lots more items to finish it properly? Is the package offered the right specification for you? Are you comparing like with like, so you can make an informed decision? These and many more questions need answering properly! We want to help you make the right decision, so our log cabin ebook will guide you through this often confusing process.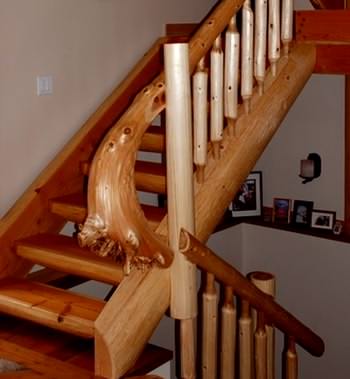 2) Log Cabin ebook - How to identify suitable and good quality timber

Now we are not expecting everyone buying a log cabin to have a qualification in timber and be an forestry expert, but some key information goes a long way here. Do you know by looking at a log how good quality the timber might be? Is the timber slow grown and dense or immature and therefore likely to warp and crack? Is the timber species suitable? The location it was grown can also shed a lot of light on the subject here. We reveal so very simple methods for really finding out how good the timber really is! After all the long term success of your log cabin project depends on getting this right!

3) Log Cabin ebook - How to choose the right type of logs

Now there may be several types of logs which will be suitable for your project, but what we want to do is to stop you choosing the wrong ones! Logs are not all made equal, far from it in fact! Do not be sucked in by glossy sales literature or by looking only at the bottom line cost! The size of your logs is very critical, especially in machined or engineered logs where thicknesses can be relatively narrow. Just because a log cabin show unit that is a few months old looks good, don't assume it will look the same in 5 or 10 years time. This is where experience and looking at log cabins over many years has taught me some very important lessons! I want you to still be pleased with your log cabin many years into the future. Understanding the differences between log types is key to you choosing the right one and achieving this.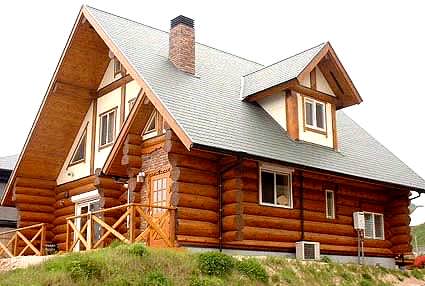 4) Log Cabin ebook - Understanding log cabin design

Now you may have a good handle on conventional house design, but log cabin are unique and need to follow certain design principles. One of the primary differences with other types of construction is the logs not only provide the structural strength of the building, but also the finishes external and internal surfaces too! The logs are also the lintels to window and door opening. Log cabins also rely on interlocking log joints to provide structural rigidity and in large open areas this must be addressed with special care. Design is also important in allowing a log cabin to settle at a uniform rate and not cause problems with differential movement in the future. We will go over all the key design principles so that you get right any custom designed log cabin, but also to make sure you do not choose an inherently flawed standard or stock designed log cabin, (they are out there!).

5) Log Cabin ebook - Understanding correct log cabin construction

Now you may be considering building your log cabin yourself, in which case this is doubly important! On the other hand you could be getting a contractor to build it for you. In which case you would probably assume they know what they are doing right? In most cases the do, but maybe they have lots of other project on the go and have employed some inexperienced workers to put yours up! Knowing how to go about constructing a log cabin will ensure you either build it right yourself or know what to look for when monitoring your builders. Believe me when I have seen first hand how many problems arise, by not putting the logs together correctly. Even one screw or nail put in the wrong place in the window or door opening, can cause a gap in the wall when your logs settle. Don't take the risk, educate yourself and read in our ebook how to build a log cabin properly!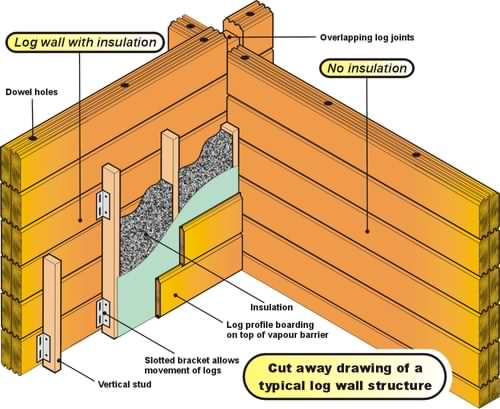 6) Log Cabin ebook - Do you need insulation?

Not having insulation could prove a big mistake, or having insulation where it is not needed may be a waste of money! Generally the most common mistake however is not choosing insulation and ended up with a log cabin which is neither as warm or energy efficient as you wanted. The problem is insulation does add significant cost and so suppliers may avoid trying to take you down this road as they know it will make the overall project cost go up (and everyone wants a low price). However as the log cabin owner and user, high running costs could prove very expensive in the long term, (especially with energy prices go up so much there days). So we would like to help you to decide in an informed manner, whether insulation would be a good idea. If so there are different parts of your log cabin you could insulate and a host of insulation products to choose from. Our ebook will help to steer you in the right direction, as it is also much better and cheaper to get it right first time, than go back and add insulation after construction is complete!

7) Log Cabin ebook - How to maintain a log cabin properly

Whilst if done on a proper schedule, log cabin maintenance should not be onerous, it is one of the most overlooked areas and one which does cause serious problems, which can easily be avoided. I am afraid to say I have visited log cabins over 10 years old, which have never had any maintenance whatsoever! I am talking big projects too! Why would you spend lots of money on a great log cabin and then let it deteriorate to a stage which causes irreversible damage? The problem is deterioration happens very slowly and if you see the cabin every day, it is almost imperceptibly occurring. You must have a maintenance plan and also recognize the signs that repainting in particular is required. Wood is a living material, respect and maintain it and you will have beauty which will last and give much pleasure. Ignore it at your own peril!! Let us take you through what you must do and when, in our ebook.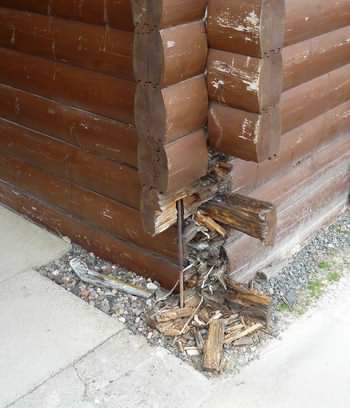 Our log cabin ebook is coming soon, but we are currently making sure it is done in an extremely clear and comprehensive manner, so it is not yet ready for publication. We want it to be a unique book, packed with practical advice to ensure you get exactly what you need. We appreciate your patience while this is being completed, but we want the finished product to be amazing! We will be notifying our users via our blog when it is ready. Why not subscribe so you will be the first to find out!


Or better still subscribe to our e-zine now and the first 100 subscribers will receive the first part of our new ebook free!
(When it is released)


Click here to go from log cabin ebook to the homepage