"Do You want to know more about
Cheap Log Cabins?"

Everyone wants cheap log cabins! However, always remember that cheap and good value do not necessarily mean the same thing. What do I mean by that? Well, you can buy something which doesn't cost much, but if the product is very poor then it isn't good value for money. Hence when looking for budget log cabins, don't just focus on the price; look closely at exactly what you are getting for your money.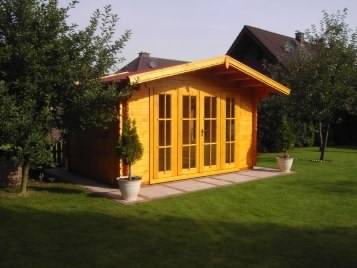 Now, what are ideal cheap log cabins for one person may not be for another! What you really need to know is: what is the cabin going to be used for and what will you expect from it? Most people looking for affordable log cabins are probably after a smaller garden cabin rather than a large log house. If you simply want to provide a little extra space for occasional use, then why spend a whole lot of money on a high end product? Maybe you just want something for the kids to use and therefore a solution that just lasts while they are growing up. If money isn't an issue and you can afford to buy a high quality unit which will last longer and be warmer, then great! But most people do not have the extra cash hanging around, so they need to make sure that what they are buying will suit their needs now and for as long as it is required.





We will now go over the main areas of cheap log cabins, and then from there you can go to further pages which really drill down into detail on these aspects.

Log types

Logs range from very thin and lightweight timber to very thick logs, made from dense and heavy timber. Again there is no right answer as to what you should go for, but think about what you want the cabin for. If you plan to use it everyday, then you need to be looking more at the quality end of the market. If you are looking at cheap log cabins for very occasional usage, then a lower quality product will OK. Ask yourself when you will be predominately using your log cabin: Winter? Summer? Night time? Day time? Our section on log types, will help guide you through what types are available and what sort of applications these would be most suitable for.


Temporary or permenant cheap log cabins?

One critical question you need to ask yourself: Is your log cabin a temporary building or do you want it indefinitely? If you only need a temporary solution and therefore only need it to last a few years, then the chances are you will not want to spend so much, so a more budget-type of log cabin will suffice. If you want a log cabin that will last a lifetime then choose wisely and always go for quality materials. Remember cheap to buy isn't necessary cheap in the long term if your log cabin doesn't last! So find out whether a permanent or temporary log cabin is best for you.




Windows and doors

Windows and doors are still an important part of cheap log cabins. Although smaller garden cabins are likely to have thinner and lower quality units than, say, a house, they still must perform to fulfil your needs. Windows and doors need to be functional, so make sure you can get enough air flow if you plan to use it a lot in the middle of summer. Likewise if you want to use it lots in the middle of winter, in a cold climate, then choose the best you can afford. We will reveal all the info you need to help you decide what to go for, in our window and door section.




Flooring

Flooring is an important choice to make in a log cabin, as this is the part which will physically have the most wear and tear over the years. Wood flooring looks great in a log cabin, but remember if you choose a pine floor to, say, match the logs, it may look quite tired in a few years if you are walking over it constantly. Also consider if you are likely to get the floor wet a lot. If so, an alternative to wood may be the best choice for you. There are a lot of great flooring products out there today and even some of the latest laminate floors can look so realistic. Also think about comfort as well; if it is for the kids, vinyl would be a good option (softer and easy to clean), or perhaps you can use a rug in the main area that will be used the most. Again, our more detailed section should help you decide what to do with your log cabin flooring.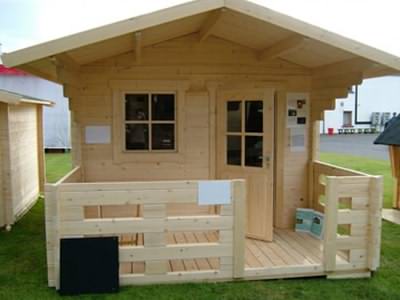 Bases or foundations

Do you need proper foundations, or will a decent base do? Lighter weight, cheap log cabins, made from thin logs, will need less to support them than a high end luxury log cabin. Again it is all about something which is appropriate for the product and the overall costs. Never be tempted to scrimp and save too much on a base or foundation though! Always remember once the log cabin is constructed on top of the base, you can not get at it anymore to alter it in any way. This means if it subsides or moves in any way and the log cabin is not supported properly, problems could arise with the structure itself. Always try and support the logs in as many places as possible. The more contact area between the logs and the base, the more evenly the load is spread. The ideal scenario is to have support under all bottom logs, over the whole length of the logs. This is not always necessary, but what is crucial is a very level base! Logs come pre-manufactured, and you cannot lose bad levels in the build of the log structure. Take a look at our foundation section.





Small log cabins

Looking at a small log cabin? Discover what you need to think about in particular when considering a compact log cabin. Small often means cheap, but mistakes don't come cheap, so get it right when choosing your small log cabin.


Click here to go from cheap log cabins to the home page