"What Log Cabin Maintenance do You need and what about Painting?"


Log cabin maintenance is sadly an area which is overlooked by many and can result in disaster! A little routine maintenance will protect your log cabin investment and keep it in tip top condition. Wood is a natural material and left unmaintained will undoubtedly deteriorate, given enough time exposed to the elements. You also need to make sure you protect right in the first place by choosing your log cabin paint wisely. Painting a log cabin is a sizeable task and we will help give you tips to make sure it is done properly. Also make sure the wood stain is good quality and the correct type. After all, is it worth saving a little money, if ultimately your logs are not protected properly??!!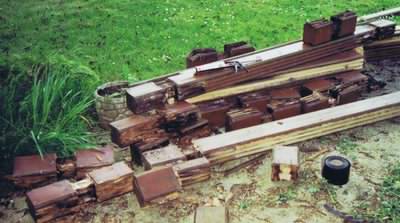 What the lack of log cabin maintenance can result in!!
Want to know more about log cabin maintenance and painting?


Log cabin painting
We'll talk about painting your log cabin first as it is something which needs doing early on in your log cabin project. Don't be unprepared in this area, as your logs are the key structural element of your log cabin and you must protect them properly at the first opportunity. You may therefore want to consider this when you construct your log cabin in the first place to help with the aspect. The correct product is essential too, so make sure you know what is the best wood stain to use. The wrong product will not allow the wood to breathe, which it must do as a natural product. Also you need to know how to apply the paint properly. The last thing you want is unsightly lines on your beautiful logs! Find out all the practical information to help prepare and paint your log cabin.

Maintaining seals

The seals on any opening or joint in your log cabin are what keeps the weather out and also protects the building from the ingress of any moisture. Some design details help to protect such areas, but ultimately you need to routinely check these keys areas for their integrity. This is particularly important when heading into a wet time of year, when any problem could be exacerbated. We'll show you all the crucial areas to check and why they need to be sealed properly.

Maintaining the surroundings

As with many areas of log cabin maintenance, potential problems tend to happen at a slow, and sometimes almost imperceptible pace! Take a chance once in a while to take a step back to make sure the area surrounding your log cabin does not pose any threats. The sorts of things that happen over time can be a change in surrounding ground conditions or levels, which may mean water can now get to the building where it shouldn't (and didn't originally). Also bear in mind that plants and trees (especially) can grow massively and start to come into contact with your log cabin.




Maintaining the roof

The roof is a key area on your log cabin. After all, most of the precipitation which falls on your log cabin will hit the roof first. Leaks must be stopped at all costs, so make sure your roof tiles and the guttering and drainage from your roof is maintained properly. Some roof tiles are only designed to last a certain lifespan, so plan for this. If you have a lot of trees around, always be aware in the autumn or fall period that guttering can easily get blocked!

General maintenance

Maintaining the wood is your number one priority. Sometimes things get overlooked and deterioration starts. This doesn't however always mean that this situation can not be remedied. The quicker you act the better, but there are certain products out there which can prevent further degradation. Sometimes things can be replaced fairly easily if needed, but other elements, such as the logs, cannot! Often the lower logs are most at risk on a log cabin, so pay particular attention to this area. I have seen some real horror stories over the years, so make sure this does not happen to you!


Click here to go from log cabin maintenance to the homepage