"Your Log Cabin Flooring will needs to Look and Feel Right, but also Must stand up to Wear over the years too!"


Your log cabin flooring has a big impact on the internal appearance of your log cabin. Flooring is also a very tactile aspect of a log cabin, as we walk on them every day. Another very important aspect is how serviceable the flooring type is. By this I mean how good is it for the activities usually done in that particular room and how easy is it to maintain them and keep them clean. Costs as ever plays a crucial role, but also remember to consider how long a particular flooring type will last. We will go over what types of flooring may be most suitable for different areas of your log cabin and also all the pros and cons of the main log cabin flooring types.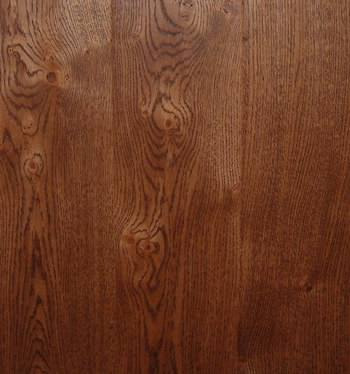 Discover more on Log Cabin Flooring:





Flooring in different parts of a log cabin

Your log cabin flooring does not have to be the same through out the building, in fact it is probably quite sensible to choice different types of flooring for some rooms or areas. Timber flooring is of course widely used in log cabins, but all normal options are open to you. Carpet, stone and ceramic tiles, vinyl and laminate flooring are all options worth looking at.

Now there is a great difference between different types of wood flooring (which we'll cover later), but here we will talk about wooden flooring in general terms. Wooden flooring is a very healthy product, which is easy to clean and will not collect dirt and bugs like a carpet will. Real wood flooring has a natural beauty and this compliments the logs very well. It is therefore very popular in main living areas and some people use through out the whole house! Over many years of experience my advice would be to be careful when using wooden flooring in areas which can get splashed a lot. Sustained contact with water in such areas as kitchens, w.c.'s, bathrooms and utility areas may eventually lead to problems. Here I would advise using a product which is resistant to water, such as ceramics, stone or vinyl, for your log cabin flooring.

Some people also like to soften up the inside and the use of carpets or rugs in some areas can be nice. Carpet feels cosy on your bare feet and as well as being soft also helps to absorb sound too. Just be aware if you use a rug, real wood flooring will mellow in colour over time, so if you decide to move a rug some years later, the lack of natural light reaching that part of the floor will leave a lighter patch!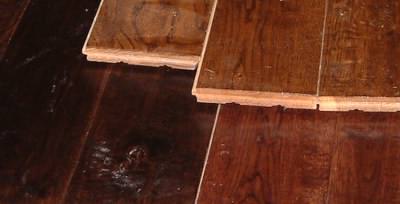 Log cabin flooring - examples of solid wood floor boards

Wood flooring
So choosing wooden log cabin flooring is simple right? Well in truth there are now so many products out there on the market, deciding what to go for can be a confusing process! The species, thickness, board width, style of edges, type of manufacture, colour, finish and fixing systems are all very factors which need looking at. Ok so lets break it down a bit and really help you understand some of the fundamental differences to timber flooring:
Solid wood or engineered?

Solid wood is fairly self explanatory, as it is a single piece of wood, which has been cut and planed out of section of a tree to the desired profile. Engineered timber flooring is a relatively recent development, but one which has overcome some of the traditional problems associated with wooden flooring, whilst still preserving its natural beauty. Engineered floor boards are made up of different layers which are all glued together to produce the finished floor board. The top "wear layer" is a thin layer of the real wood, the bottom is usually another thin layer of the same species, whilst in the centre is a softwood layer. This centre section is made from many narrow pieces of timber glued together at 90 degrees to the long side i.e. across the board width. This construction stops the inherent tendency of timber to expand or contract, or to warp under certain conditions. All the pieces of timber fixed together within the board, counteract the movement of any adjacent board and hence a very strong and stable product is produced.

So why use engineered boards and not solid? Well it very stable and therefore you are unlikely to get any warping, cracking or shrinking of the boards, leading to floors with gaps and which could be not completely flat. Now it is worth saying that a decent solid wooden floor should not do this if it is stored and installed correctly, but sometimes it does happen. Engineered flooring also tends to come prefinished, which give much better protection to the wood and does away with the need to sand and varnish to flooring after installation. Being very stable and a little thinner than solid wood floors it is also very good for use in conjunction with underfloor heating systems.


So what are the down sides to engineered floor boards? Well they can be quite pricey and generally you don't find many really rustic finishes. Also the wear layer on the top means you can only sand down the floor a certain number of times before you start exposing the softwood core. If the wear layer is very thin, you may only get one or two chances to sand it down. In general though a good quality floor board shouldn't need sanding down much and I have used engineered floor boards a lot and would definitely recommend it for log cabin flooring!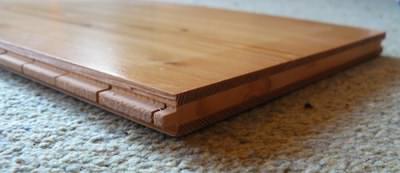 Log cabin flooring - close up of an engineered timber floor board
Types of wood
Now we all know there are many, many species of trees out there! Timber largely falls into 2 categories; hardwood and softwood. However within these 2 broad classes there is considerable variation and therefore you need to choose wisely. If you are not sure about what the timber is like from different tree species, try to make sure you find a supplier who gives good information on the hardness and durability of a particular type of timber flooring. Many modern catalogues are now much more informative and such information can often be viewed online.
Choosing the right wood for your log cabin flooring is largely about balance. Generally the harder your timber is the more expensive it will be. So while a softwood, like pine, will be much cheaper to buy it will not stand up to high wear and tear situations as well as say oak, which is a hardwood. Remember though that installing a wooden floor is largely similar in cost no matter what species it is. It therefore pays to go for as good a quality timber floor as you can afford, rather than face up to expensive replacement cost, (resulting from the choice of poor quality flooring in the first place). The choice is most critical where the floor usage will be the highest. In low traffic situations, wear is less likely to become an issue.
Board size and style

The board thickness, width and length will largely dictate the price of your timber flooring per unit area. In particular very wide boards are hard to find and this timber size is more difficult to source from trees and more difficult and wasteful to manufacture. The increase in cost therefore is often not proportional and choosing a floor boards of a standard, thickness and width, will usually help save you money. If you do however really want very wide boards, make sure the timber quality and moisture is very well regulated, as the wider the board, the more the tendency for it to try and warp and move.

A lot more flooring these days comes with beveled edges. This can look great and picks each board out, giving a less flat overall appearance. Either the sides, or the ends, or both can be beveled, but it is usually only quite a small amount which is taken off. The down side to this is that the floor is not quite so easy to clean and the grooves tend to collect dirt.



Timber flooring finishes

Traditionally timber flooring would come planed but unfinished and would normally require an onsite sanding, before several layers of varnish were applied. Today however your log cabin flooring choice is much greater and more and more timber floor boards are now available pre-finished. Although more expensive to buy, it does away with the messy and time consuming job of sanding and varnishing. This also means that you end up with a very uniform finish, which should result in a great looking log cabin flooring.

By and large there are 2 different types of pre-finishing for timber floor boards. Waxing or oiling in one and the other is lacquering. Waxing and oiling allows the wood treatment to soak into the wood. This means the surface has more texture to it and is less shiny, but the downside is less protection for the wood and more regular treatment to maintain the boards. Lacquering sits on top of the wood and provides a hard layer which helps to protect the wood from impact and also keep water out. It needs much less ongoing maintenance, but it does leave a much shinier and smoother finish, which some people don't like. The choice is yours but if you are OK with the look and feel, I think lacquering is the best way to go for log cabin flooring.

Stone and Ceramics

Stone and Ceramic floor tiles can make great log cabin flooring. The contrast of another natural material usually works very well. Stone and ceramics are very hard and also are good in a room where water can get on the floor. So their properties mean wear isn't an issue normally and they will not be affected by water and should be easy to keep clean (provided the surface isn't too rough). On the downside this type of material can be expensive (although this can vary considerably) and can be cold and hard to touch. In a kitchen environment this will probably mean dropping any glasses or plates, will almost certainly result in a big smash! It can be quite slow to install.





Laminate

10 years ago I wouldn't have touched laminate flooring with a barge pole! However in recent year laminate flooring has come on leaps and bounds. Now you can get laminated which looks extremely realistic, has a textured wood grain surface and also has beveled edges. All these factors mean that laminate can now look pretty good!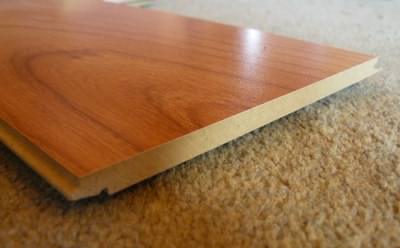 Log cabin flooring - close up of laminate
The benefits of laminate are it is extremely hard and stable (being made from HDF - high density fibre board), it is cheap to buy and it is hard wearing. It is normally available in a glueless click fit system, which is quick and easy to install. On the downside the finish is very shiny and can be quite slippery. HDF is very hard and tends to wear saw blades out quickly, so this can incur some cost. Although patterns have got more varied and random, it can not replicate the unique and individual appearance of real timber.

Vinyl

When many people think of vinyl floor, they think of the old and bland rolls that were popular in bathrooms. In truth vinyl flooring has come a long way in recent time too! With such companies as Karndean or Amtico, there are now a myriad of options and finishes. You can get tiles which look very similar to stone or ceramics, have a textured finish and with the use of grouting strips, look very authentic. If you thought vinyl doesn't look not that nice, it may be time to reconsider.

On the plus side vinyl is very thin and therefore can usually be fitted straight on top of floor boards (if they are level), without having to adjust your door levels. They are a lot warmer and softer to touch than stone and although not really cheap, they certainly cost way less then the real thing. It is also easier to install and you can create some great looks with mixing different styles and using specialist designs. It also generally quite hard wearing and water proof (although I would recommend sealing the wooden floor boards below to be safe).

On the minus side, like a laminate they can not fully replicate the random and unique appearance that nature creates. It can be a little slippery, especially when wet, so a mat in the bathroom is a good idea. Some of the more elaborate designs are not too cheap either.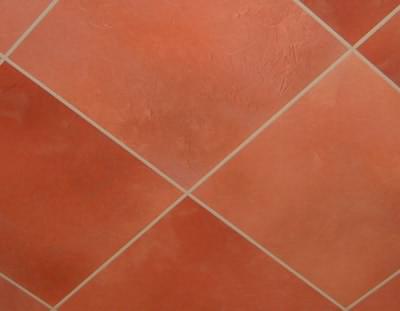 Log cabin flooring - this is actually vinyl tiles with a plastic grout strip

Carpet
Carpet and rugs are nice if you like something soft under your feet. Sometimes some carpet or rugs can make a nice change from all the wood and carpet can make a room feel cosier and quieter. There is something very welcoming about carpet and it is good for areas like stairs, which can be slippery, if made from hard surfaces. The quality and price of carpet can vary wildly and materials they are made from and their thickness will impact on the bottom line. Cheap carpets general don't wear that well and don't always feel that nice. Carpets are also not as hygienic as other flooring materials and the pile in the carpet tends to trap dirt and be an attraction for bugs and insect. They are also not good for damp areas as the moisture can cause them to degrade and smell.

Underfloor heating

If you intend to use underfloor heating in your log cabin flooring, then please make sure you pick a flooring material which works well with it. Do not pick materials which could be affected by the heat, like a timber type which is not very stable. Also make sure if you use vinyl flooring you use heat proof adhesive. Sometime very thick flooring can tend to insulate the heat from your feet a bit. You ideally want a material which will transmit the heat effectively, without causing the material to be affected by the temperature differences.


Click here to go from log cabin flooring to the homepage