"Protect Your Log Cabin Wet Areas Correctly, if You want to Avoid Future Problems!"


Log cabin wet areas are unfortunately all to often overlooked and this can lead to costly repairs or materials which deteriorate and start to look poor! While such problems may not manifest themselves for even a number of years, you really want to know how to avoid these potential pitfalls altogether! As we have mentioned on many occasions, water should be kept away from your logs as much as possible and where frequent water usage and splash is occurring, take the necessary precautions from day one.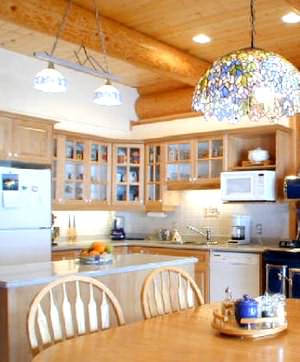 What do You need to know about Log Cabin Wet Areas?





Kitchens

Kitchen counter tops are a prime area for water and other liquids to get spilt and splashed. This is therefore a log cabin wet area which needs planning carefully! Sinks and cookers can be particularly high risk in terms of wet spots. Whilst your logs or internal timber work on your kitchen walls will be finished in some sort of surface coating, it many respects the best thing is either cover over the logs, or not use timber boarding in close proximity to these areas, (depending on construction of the walls here). Over many years of building log cabins I would recommend tiles as the best way to insure against deterioration of your precious timber and to give a finish which will still look great in 10 years. On top of this tiles are easy to wipe clean and shouldn't get affected by heat.


If you do really must have some timber exposed in this area, firstly finish it especially well (I would recommend using several coats of varnish or similar). Secondly you can get transparent Perspex sheets, which can be cut to size and screwed over the timber using screws with cap heads. This stops liquids reaching the logs in the first place and also makes cleaning much easier. Another thing to ensure is that ventilation is good in this area. Always go for as efficient air extraction system as possible. This will take moisture outside and away from your timber and should stop the build up of excessive levels of moisture internally.

Bathrooms and w.c.'s

Bathrooms are the other log cabin wet areas which can be high risk. In fact a shower which does not have good extractor fan systems in place, creates a lot of moisture which hangs around your bathroom. Baths, bidets, w.c.'s and sinks are also significant sources of water and surrounding timber should be well protected. Waterproof mouldings, manufactured waterproof sheets and tiles are again good way of protecting walls. If in doubt tile a larger area around these points than you think might be necessary, (better that than to skimp and end up with the moisture eventually affecting your timber). Again Perspex sheeting can be used, but I would only recommend using this in areas which may get occasional splashing, rather than areas which get constant running water like a shower.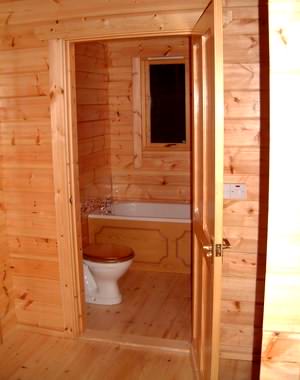 Wet rooms

Wet rooms have become a more popular option for bathrooms these days. The potential for a leak in this type bathroom design is much greater than with an ordinary bathroom design and for this reason I would approach them with great caution! Wet rooms basically expose the whole room to water, rather than just contain it in certain areas. Many leaks often go undetected at first and finding the source of a leak in a wet room can be quite tricky, I would generally advise avoiding the use of wet rooms in a log cabin. If you do decide to build a wet room, then please, please make sure it is sealed extremely well and that all seals are checked regularly!

Utility areas

You may have log cabin wet areas in a utility room or similar. If you have rooms where you have washing machines, have a general purpose sink or do some kind of wet activity, then again proceed with caution. Make sure you employ one of the methods described in the kitchen or bathroom section to protect your timber.

Other Factors

So what other factors may need considering in log cabin wet areas. Well settlement of your logs is crucial to take into account. Your logs will settle downwards over time (especially in the early months). You can not directly fix therefore rigid materials such as tiles, or other sheeted material to the logs, without is causing cracking or possible breakage later on. Any installation of rigid materials onto a structural log wall, must be fitted using a method which allows the logs to settle independently. In reality this means some kind of sliding mechanism is used to fix to the logs in a way which allows this settlement to take place. Usually wooden boarding (such a plywood) is then fixed internally and the rigid materials are then fixed to this and not the logs. Your log supplier should have some kind of system which will allow for this, but you can find out more in our construction section.


Some fire treatment can eventually react to regular exposure to moisture. In the UK intrumescent fire treatments of internal timber (this is surface coating usually applied after installation) can cause problems. In bathroom and kitchen environments this type of fire treatment, over a number of years, will gradually turn milky in appearance! This unfortunately starts to make the finish obscure and take away from the lovely timber finish underneath. Learn more about fire treatment inside a log cabin.


Click here to go from log cabin wet areas to the homepage