"Log Cabins Scotland
What do You Need to Focus on?"


What is different about the log cabins Scotland has? Well with many wonderful locations, it is not hard to see why they are so popular here, but locations can also bring their own challenges! The log cabins Scotland tends to have are not much different to the rest of the UK or Europe, but the weather, site exposure, access and other issues can really come into play here. This calls for some careful planning and also needs good maintenance programs to be in place. Find out which essential aspects you should thoroughly investigate, before building a log cabin in Scotland.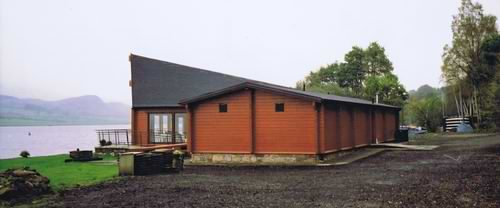 Let's look at the important issues log cabins Scotland have, in more detail





Log Cabins Scotland – Site Access

We have undertaken projects in many far flung locations in the Scottish highlands and there are some spectacular locations, especially in the mountains here! The flipside to having a wonderfully remote location, is often getting access to such a site! Not only can the roads be very narrow and hilly, but narrow entrances, low trees and other obstacles, can limit the size of lorry and may rule out the use of articulated configurations. Sometimes access from the road to the site can also be along significant lengths of muddy tracks or fields and so it is important to plan for construction during the driest time of the year, (or risk getting vehicles stuck and making a huge mess)! Don't wait and discover the hard way, plan ahead and get someone experienced to assess your access and recommend the most suitable options.

Log Cabins Scotland – Services

Another challenge that remote locations can throw up is, what local services are there? Water, electricity and sewage are all significant considerations. Sewage can generally be dealt with by septic tanks, but water and electricity can be costly problems to solve. Having to connect over long distances to mains water and electric is very expensive and you are largely at the mercy of what figure your local supplier will come up with! Suffice to say it can often run into many tens of thousands, so plan ahead and don't let your overall budget get blown out of the water by these costs. If electric connection costs are prohibitive, you may wish to consider an on-site generator. Modern units are relative quiet and efficient and may prove a much more cost effective route.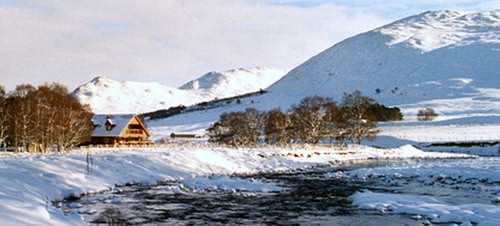 Log Cabins Scotland - Aspect

The lovely hills and mountains of Scottish countryside can provide sites with amazing views. The balance here is trying to maximize your view out of your log cabin, without leaving the building too exposed or at risk from adverse whether. What do I mean by this? Well chose the way your living areas face carefully and make sure you have enough windows and doors to give you great views out, where you most want them. However very exposed locations often experience a lot of driving wind and rain in Scotland (and sometimes snow too). So ideally go for a design which has large roof overhangs to keep the weather away from any window and door openings. This will not only look aesthetically pleasing, but also benefit you the user and also help to protect the logs too. Always have a rigorous maintenance program in such locations and pay particularly attention to the side of the building which is against the prevailing wind direction.

Log Cabins Scotland – Weather

Well there is no doubting that the Scottish highlands have a much wetter and colder climate than that found in the south of England. Design your log cabin with this in mind and make sure you have a good specification to deal with this type of weather. High levels of insulation, is a wise move here. Also make sure that rainwater is dispersed properly, with effective drains.

It is also a good idea to try and avoid construction in the winter, which with its cold and wet weather can cause the logs to swell a lot, prior to construction. It pays anyway to have some provision for keeping materials as dry as possible during construction, regardless of the time of year. Remember to allow plenty of time, in case you do get a period of sustained rain. I remember one project near Loch Ness when it seems to rain almost every day for 3 months, and it soon knocks the build time back a lot!


Click here to go from log cabins Scotland to the homepage