"Your Log Holiday Cabins need Careful Consideration. We Reveal what areas You Need to Look at!"

Log holiday cabins are much in demand these days! If you are thinking about doing your own holiday chalets, it pays to start researching all the important design and location implications now. After all if this is to be a successful business, the log cabins themselves are key to this. You want to be better than the competition and to get lots of repeat business. By going about this in the right way, there is no reason why you shouldn't achieve this!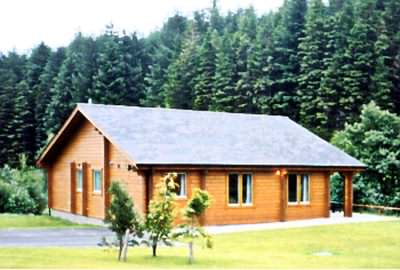 Want to know more about log holiday cabins?





Log cabin size

Probably the most important question to answer in relation to your log holiday cabins is, what size do they need to be? Are you catering towards families, couples, singles or a mixture of all types? Think about your target market, what unique selling point does your location offer? If you have lots of family activities on site or close by then look towards 2,3 or even some 4 bed units. If you are catering for romantic getaways, large 1 bed units are probably going to make the most sense. Are you going more high end, or towards the budget end of the market? Luxury cabins will need the space and specification to reflect this appeal. Put yourself in your customer's shoes, what would you want? Look at other people holiday cabins and see where you think you can improve. Always do your market research well and your ideal log cabin size should become apparent.

Type of design/layout

Many people on holiday like a relatively open plan, as this allows people to still talk and be together, (even if they are in different areas of the house). Kitchen areas are usually open plan, with eating and living areas being open to each other as well. Think about the internal feel of your units to. Vaulted ceilings add the feeling or spaciousness, but are also more expensive. Often a good compromise is to have the living area vaulted (after all this is where you will spend the most time), with the bedrooms and bathrooms having a flat ceiling. This helps contain costs, while also providing some roof area for services to be located.


Try to minimize hallways and corridors which eat into the overall internal space. A squarer rather than a long thin design can lend itself to this and will usually result in less external wall area too, (thus helping with costs). Try to keep plumbing from any bathrooms and the kitchen close together to help minimize costs. Also think about how many bathrooms you should have. In large log holiday cabins, an en-suite to the master bedroom can be a nice touch.


Having a theme can be a good way to make your cabins stand out from the crowd. If your location lends itself to a particular theme, then why not build on this. Also having a feature which is the focus on the living area can be great. Especially if your holiday chalets will be used in th winter, a fire place which makes a statement can be really worthwhile. Good lighting is also key for the winter months. Mood lighting can really enhance the interior. Let the lighting maximize the warm feel that natural timber exudes in abundance, and leave your customer's feeling cosy!




Aspect and privacy

While this can be much more of an important consideration in a large holiday park, it is still very much an area which needs careful planning. The end of the log holiday cabins which have the best view, would normally be where the living area would be located. The direction the log cabin will be pointing is also important. Think about where the sun will be and try to angle the cabin accordingly. We all like the sun and want to maximize the appeal of this. The orientation of this unit, will also impact on the privacy in relation to other nearby cabins. If you want all the cabins to look at a particular view but the size of the overall site is fairly small, think about whether neighbours will overlook each other. This can be overcome by screening of various types, but may also be enahanced by using mirror image layouts, where some log cabins face in different directions.

Landscaping and levels

The landscaping of your site will be important and will affect the overall feel which is imparted from the log cabins. As a natural product log cabins are a great fit to the landscape, but the levels need to be optimized. Levels also need to be thought about for access into the cabin, especially where the site is sloping. If you are on steep hills, think about how you will screen the foundations on the low end. Don't be tempted to just try and screen with a few plants, if they may interfere with the maintenance of your log holiday cabins. Try to either use materials which complement the logs (stone often works well), or cover this over with a complimentary timber boarding.

Outdoor space

People love spending time outdoors when they are on holiday, so always remember this when you are designing your log holiday chalets. Decks are very popular and a great place to spend time, especially is the weather and view are nice. Eating facilities should be thought about and areas to lounge around in. For more luxury log cabin holiday designs, you may want to think about hot tubs on the deck too. The surrounding ground area may also be of great appeal too. Think about whether this could be utilized for the client's children, or maybe their pets (if you allow them). Again think about your customers needs and try and provide as many reasons for them to want to stay and not why they shouldn't!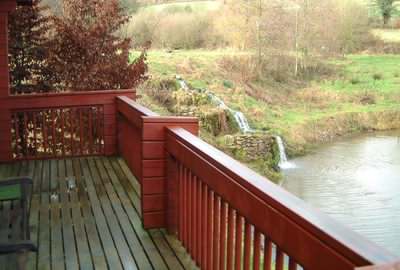 Protection from the elements

The weather will play a large role in the thought process here! If rain is quite frequent at your location think about keeping your customers dry. This can be improved by easy access from the car to the entrance door, large roof overhangs, or maybe an entrance porch area. Some locations have the opposite problem of too much sun! Again large roof overhangs can help to keep the blaze of the sun of your skin. This maybe particularly relevant at the south end of the cabin, where the living area and often a deck is located.

Disabled access

Depending on the country you are in and the local building regulations, codes or permits, if you are building several log holiday cabins you maybe required by law to provide fully disabled units. If this is the case the design of this unit, is likely to be different to the standard ones. Areas that will need looking at are:
Entrance ramps and door thresholds
Low level light switches, electric sockets and door handles
Minimum width usable room areas, to allow wheel chairs to turn around.
Disabled toilet and bathroom facilities
Disabled kitchen design

For clarification on this area you need to speak to your local building department and ask what requirements you need to fulfil.






Special requirements

Think about what special requirements your log holiday cabins should have. If you are targeting people who fish, what about providing an external cupboard to keep their fishing tackle and wet clothes? What about somewhere for bicycle storage, if this is on offer in the area? Try and make your customers stay as easy and hassle free as possible and if everything else is right, the chances are your repeat business will be much better. Remember, the customer is also right!


Click here to go from log holiday cabins to the homepage