"Why are the Log Openings bigger than the actual Windows and Doors sizes?"


Log openings are something which log manufacturers should work out for you. However if you are heavily getting involved in your log cabin design, then it pays to understand why the log aperatures are the size they are. Sometimes it can be confusing understanding why the openings cut in the log walls, are bigger than the windows and doors. If you have lots of windows and doors close together, knowing how this works is a great help!

The extra space in the side of the openings in the logs, which is cut out by the log manufacture, may vary according to what log settlement systems they use. The gap over the top of the window and door openings must also be factored in, to make sure the logs provide a strong enough lintel over the opening. Using a standard height door and understanding the height of log openings and minimum lintel depths, will dictate your minimum eave height. We explain all in our log cabin ebook, which has many diagrams and pictures to help you visualize and understand these areas, (which are not seen after construction).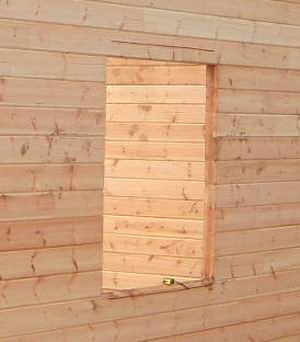 Log Openings

All aspects of this are covered in depth in our log cabin ebook. Other design areas which are covered in the book include:


Design principles
Moisture in logs
Log Settlement
Roof overhangs
Log home plans
Roof design and roof tiles
One or two storey design


Why do you need our log cabin ebook?

Well apart from really seeing in depth how openings in the log wall are calculated and implicate your design, you will also find out a gold mine of other essential log cabin information. Design is just 1 of the 7 steps to log cabin success, which our ebook covers. The over 6 steps which are gone over in depth are:

1) How to choose and buy the right log cabin package for your needs
2) How to identify suitable and good quality timber
3) How to choose the right type of logs for your specific project needs
4) Understanding why correct log cabin construction is critical to long term success
5) Knowing when insulation is needed and how best to insulate your cabin
6) How to maintain your log cabin and protect your investment

Each of these 6 additional 6 section are sub-divided into many small sub-section, which really drill down into the detailed, yet understandable and practical advice. This advice has been the accumulation of many years of real "hands on" experience. It is packed full of informative advice, pictures and illustrations, so you can really see what you need to focus on. Our log cabin ebook will really give you a massive head start over the average log cabin purchaser. The right knowledge can be priceless and utilized well should ensure your project is a total success!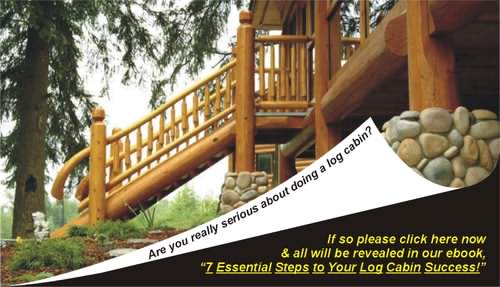 Do you want to understand how log openings work? Our ebook explains all.


Click here to go from log openings to the homepage